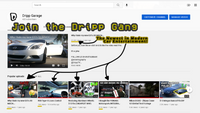 Dripp Garage YOUTUBE
Keep up with the CEO and Content Creator: Aram for all the craziest shit he brings to the car community. Always bringing his roots into every single video building an empire. Get in on the fun EARLY and subscribe!
@dripp.co on Instagram
Check out his journey with every car he gets to own in his lifetime. And the mods he does to each one!
Over 338,000 + collective views!
Watch the channel